Dear GATORS,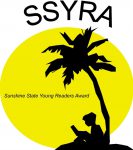 The Sunshine State Young Readers Award (SSYRA) Program is a statewide reading motivational program for students in grades 3 through 8, in a collaborative effort between the Florida Association of Media in Education (FAME) and the Florida Department of Education (DOE). The purpose of the SSYRA Program is to encourage students to read independently for pleasure and to read books that are on, above, and below their reading level in order to improve their reading fluency. Sunshine State books are selected for their wide appeal, literary value, varied genres, curriculum connections, and/or multicultural representation.
            Your child has the opportunity to independently read all 15 books in this program to earn all the incentives.  Membership starts at the fourth book and your child can read any amount after that to continue to earn the rewards below.
Incentives
1 Book
2 Books
4 Books
6 Books
9 Books
12 Books
15 Books
Choose from a variety of snacks
Get a Smencil or Stacking Point Pencil
Ice Cream Coupon
Eat lunch with a friend in Alligator Alley
$5 Voucher to use at the Spring Book Fair

*Must read 9 prior to Book Fair

McDonald's Lunch
"I read all 15!" shirt

Picture on the Wall of Fame.

Invitation to sleepover at GHES on May 17th!

Bonus Incentives:

Read a minimum of 3 books prior to March books to cast a ballot to vote for your favorite Sunshine State book!

Read any of the following titles prior to the dates listed to attend a live video chat with the author!

*Teachers can choose to participate in chat with their whole class if book was read as a read aloud.

9/20 @ 10:30 with Chris Grabenstein author of Home Sweet Motel

9/25 @ 10:30 with Lauren Baratz-Logsted author of I Love You, Michael Collins

10/4 @10:30 with Sherri Winston author of The Sweetest Sound

10/9 @ 1:00 with Kallie Georgie author of A True Home

10/25@ 10:30 with Terry Lynn Johnson author of Overboard!

11/1 @10:30 with Melissa Savage author of Lemons

12/6 @ 10:30 with Kieran Larwood author of Podkin One-Ear

1/24 @ 10:30 with Charise Mericle Harper author of Lights, Camera, Cook!

2/14 @ 10:30 with Laura Martin author of The Ark Plan

3/5 @ 1:00 with Asia Citro author of Dragons and Marshmallows
Let the Reading begin!!!  We look forward to enjoying some great books with some great kids!
Mrs. Torre              Mrs. McCall            Mrs. Valentine       Mrs. Sibley      Mrs. Predmore